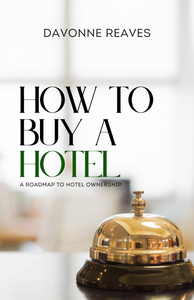 The Vonne Group
How to Buy a Hotel Book (Digital Copy)
Regular price
$24.99
$0.00
Unit price
per
This book is perfect for anyone who is looking to learn about investing in hotels. 
What: How to Buy a Hotel Book - A Roadmap to Hotel Ownership
You'll also get:
- Action sheets
- Speaker Series access
In this Digital book you will learn:

The various pathways to hotel ownership

How to create your hotel ownership thesis
How to Find Deals

This Digital Book is Perfect for:
Entrepreneurs 
Small Business Owners 
Real Estate Investors

Folks who want to diversify their portfolio

Why Should You Buy from The Vonne Group?
Good Introduction & Great Resources Provided
This ebook was a good introduction into how to buy a hotel. I love her energy and the list of resources referenced. I'm definitely a fan. I've already watched some of her live talks (which were great) so the information in the ebook contained information that I've already heard from her talks. It didn't feel like new information was provided in the ebook. I wanted more substance, more details instead of rewording sentences. There were also typing errors and changes in font that were distracting. There were too many blank pages as well. With that being said, I'm still a huge fan because her branding and videos are inspiring.
How to Buy a Hotel Book (Digital Copy)
Excellent How To on Hotels!
This book really gets you thinking about some of the intricacies about Hotel ownership. Really love the action items as well. Great read and highly recommend to anyone thinking about buying a hotel!
How to buy a hotel book
The book was a great read.
Classic material.
Hotels… Here I Come!!!!
Once I read the book, took notes, joined the mastermind group, I quickly decided to invest in hotels!! Being that I'm in the hospitality industry with Short Term Rentals, this was my chance to learn bigger-earn bigger with hotels. This was an eye opener for me as a women owned small business and take advantage of service disabled veteran owned perks!!!
---